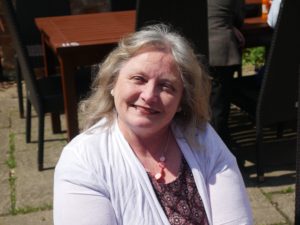 When did you first realize you wanted to be a writer?
Probably when I was about seven! I never really thought of it as a career though so it took me until I was in my fifties.
How long does it take you to write a book?
I tend to plot as I go along so I need time for the ideas to ferment. Okay that's just an excuse for the fact it takes me between a year and eighteen months to write a book.
What is your work schedule like when you're writing?
It has to fit between running a village post office, teaching English to French companies and looking after my son. If I'm lucky I manage a couple of hours during the day and then at the weekend I might get some uninterrupted time.
What would you say is your interesting writing quirk?
I can't write without coffee yet more often than not, if I'm really engrossed in my writing, I find the coffee stone cold next to me. I go and reheat it in the microwave, take one sip and hours later it's still undrunk. You'd think I'd have learned by now.
Where do you get your information or ideas for your books?
Anywhere and everywhere. It could be a snippet of conversation overheard on the bus, a radio interview or something I've read that sparks off the idea for a book. Whenever I talk to people I'm always filing away snippets of information for later use.
What does your family think of your writing?
They're supportive but for the moment I think they see it as a hobby. I'm determined to awe them all one day when my books are on the supermarket shelves – the height of stardom to my lot!
How many books have you written? Do you have a favorite?
I've written three books in the Greek island mystery series, Jenna's Journey, Sophia's Secret and Pandora's Prophecy. I've also written a Christmas romcom called Callie's Christmas Countdown, just the thing to make you smile in the run up to the festive season. They're all very close to my heart but I think my first book, Jenna's Journey, will always be special.
Do you hear from your readers much? What kinds of things do they say?
I love hearing from readers as the ones who genuinely like my writing keep me motivated when things get tough. Readers say they love the twists and turns of the Greek mysteries and the descriptions which transport them to another country. As long as they read, I'll continue to write. In fact, writing has become an obsession so I'd probably write regardless but I do love hearing from readers.