ER Doc daughter gave me full permission to use her photo in connection to my writing persona. (Smallest, blonde child in above photo) She said she's not the least embarrassed by the steamy books her mom sometimes writes. Well, that's what I write most of the time.
Loved her answers to the intro profile her new job sent–
1. How would you describe yourself?
Queso connoisseur, online shopping addict, Native Texan, temporary New Yorker, dog lover/cat owner (though she might own me)
Tell us more about yourself:
Sleeping is my favorite hobby. I'd rather be on a beach. Sleeping.
If you had a superpower, what would it be?
Teleportation (to avoid airport lines)
Who is your role model/hero? Why?
My parents for their unwavering support
What is the most significant accomplishment of your career or personal life:
Making it through residency without a nervous breakdown
My beloved husband and I are such saps about our daughters…and the tree we bought for out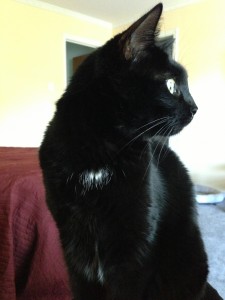 side our bedroom window…and the "foster" kitty currently living with us who will move out soon(*sob*). ER Doc daughter has found herself an trendy apartment and can soon no longer say jokingly that she lives with her parents.
Beloved spunky, dog-like kitty, Lily Pad,  will just visit when ER Doc daughter returns to visit her Brooklyn boyfriend.
When daughter is stationary, I'll get a kitty of my own. Since our last aged cat died, I've been borrowing kitties.