This was a fun romance. I like good writing and I love smart heroines. This book has both. Frame draws an adorable, highly-intelligent hero in Lucy. Although her intelligence and her unusual perspective leaves her isolated from her peers, the reader connects with her. She's as bewildered by the average individual as most people ar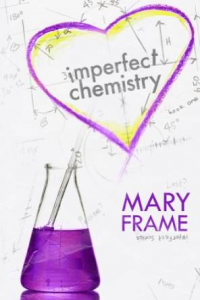 e with her.
I also write contemporary romance and as a writer, I tend to naturally view writing from a different angle, but Mary Frame drew such a fun, compelling, readable book that I fell into the blissful unconsciousness brought on by reading a great book. When our heroine, Lucy, finds her hero right across the apartment hallway in Jenson–who has issues of his own–it just feels right.
To be honest, I cannot say how I found this book. I'm always trolling around, taking recommendations and seeking out books I'll enjoy. Reading is my hobby and my own personal time-out. I tend to stumble out of stories when authors write poorly, but that wasn't an issue with Imperfect Chemistry. I loved Lucy and Jenson's growth and their connection. Lucy never did the expected, but her actions were always consistent and on target.
This is a great book for anyone who loves well-told romance from a place slightly left of center.