Okay, I admit it. I'm a delicate flower. Trust me, this hasn't made life easier for me. Quite the opposite, in fact.
It is a recent discussion–after the summer weather of 80+ and upwards has arrived here in Texas–between my Beloved Husband and I that I have minimal heat or cold tolerance. There. I admitted it. I have a narrow range.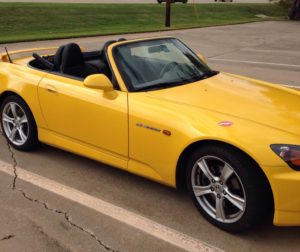 I drive a wonderful, fast, agile yellow convertible roadster and I put the top up on it when the temperature rises above 80. That's my marker. I can actually tolerate a little higher if the sun isn't out. When it gets hotter, however, I start to sweat and become generally cranky and uncomfortable. Beloved Husband tolerates both greater and lesser temperature than me, so he finds my narrow range to be amusing.
I've often commented that I put the top down on my car more often in the winter months–not harsh here, but still nippy at 70+ mph–than in the summer. Come late May and the top goes up and stays that way until pretty much middle September or early October.
The inside of my wonderful car is naturally compact, but I've stored in it my visor–black with S2000 embroidered in yellow-and my Beloved Husband's hat. In addition, I have short leather gloves(for chilly, but not cold weather) , long leather gauntlets that extend mid-forearm (for cold weather), knit gloves on the passenger side for when I'm not wrangling the steering wheel, a small lap blanket and both clear close-fitting glasses with side shields and extra sun glasses.
I'm prepared and I drive quite comfortably with the heater blowing on high. (I don't, however, drop the top and blow air conditioning on myself as my Beloved Ph.D. Doc daughter once did. There are limits.)
In addition, I keep windshield cleaner pads and a dust rag in a special compartment that I didn't discover for a year after owning my first S2000(when another S2000 driver showed it to me). In the smallish trunk, I keep both a sweatshirt and a wind jacket, just in case the weather changes when I'm out.
I am constantly amused at how startled other drivers are to see a woman–particularly not a young woman–driving this car. I believe one police officer even let me off from a speeding ticket because he found it so funny. I don't race other drivers, no matter how much they try to induce me to do this–and they do–but I've been known to flex my car's muscles once in a while when other drivers fail to respect the car.
Ahem.
I also "blow out the pipes" once a week, always in a safe location as not to run anyone over. Imagine my delight when an earnest young Honda mechanic at a dealership came out of the back just to inform me that this is a car that can't always be driven sedately and actually needs to be cleared out every now and then.
Believe me, I've taken this to heart…