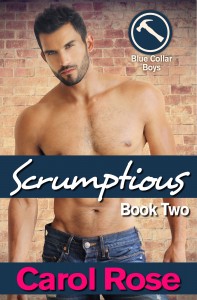 The second romance about a Thompson brother, Scrumptious is about really hot Noah and Natalie Trefalger, the audacious woman who bags him. Smooched, first in the Blue Collar Boys series about a family of guys who run an architectural salvage yard released just two weeks ago. I had a lot of fun writing about these men and their mates. Check out Scrumptious and see if you have fun, too.
Natalie Trafalger's ailing grandmother is determined to sue for land that was swindled from her in order to have a legacy to leave her granddaughter, Natalie faces a dilemma. She doesn't doesn't need the land, which now is now owned by a thriving salvage company, but she doesn't want to disappoint her grandmother either.   After much soul searching she finally hits on what she believes is the perfect solution.
Noah Thompson is shocked when his lawyer tells him that that Natalie has a good case against him and his family's salvage company, Scruffy Boys Salvage.  He stunned when Natalie come to him with her solution. If he will pretend to be her finance, her grandmother will believe that she will get the land after their marriage and no lawsuit will be necessary.
Unfortunately, he and his brothers have just taken out a loan to finance a new building, and there is no extra money for an expensive lawsuit. If he wants to a avoid lawsuit, he will have to agree to Natalie's crazy plan. He will pretend to her fiancé as long as her dying grandmother is still alive.  Given how sick Natalie's grandmother is, how long could the charade possibly go on for?
But almost immediately he realizes that he has made tremendous mistake.  While Noah will do almost anything he can to help the family business, he's unprepared for how Natalie makes him feel. And he soon realizes that he doesn't want the fake engagement to end, ever.
Get Scrumptious (Blue Collar Boys, Bk 2) now!
Amazon  http://ow.ly/TX6BG
Barnes and Noble  http://ow.ly/URrck
Smashwords  http://ow.ly/URrr6