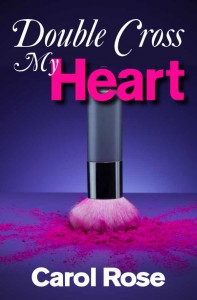 Double Cross My Heart
She thought he was her rescuer–he saved her from a mugger! But Alex set the whole thing up to meet her because Eden can help his plan.
Eden Merritt has paid her dues and is ready to be the CEO of Michele Cosmetics, but her boss betrays her, giving the job to someone else. When she discovers that her new boyfriend wants her to betray Michele, Eden decides to double cross them both. Corporate climber, Eden Merritt has given years of her life to Michele Cosmetics. The job of Chief Executive Officer was promised her by elderly Michele Broussard. But Michele has recently brought in her lover's niece as Michele's successor.
Betrayed, angry and hurt, Eden's sinking fast, clinging to the comfort of her secret addiction to Payday candy bars and chocolate milk. Alex Holt is a corporate raider who Eden happened to meet at a charity event where he "saved" her. They've been dating for four weeks, but that doesn't mean Eden is ready to help him acquire and dismantle the company. And that's just what Alex suggests.
Hearing Alex Holt's proposition to sell out her disloyal boss, Eden is stunned. Then he mentions a secret she thought no one knew. Years ago, Eden lied when she was hired, claiming to have no conflict of interest with anyone in the highly-competitive cosmetics industry–even though her uncle was Michele's biggest competitor. Trying to avoid exposure, it occurs to Eden that she can pretend she's playing along with Alex's takeover to buy herself time.