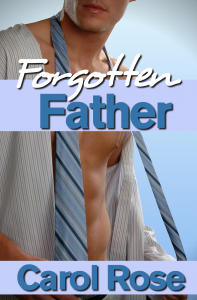 Forgotten Father
When Delanie Carlyle wakes in the hospital after a car accident, she discovers she cannot remember the past month of her life…and to her dismay, she's newly pregnant. With no husband or lover in her life, she must take care of her child alone and then an elderly friend dies and she must deal with the complications presented by a large, unexpected inheritance.
Eighteen months later, Mitchell Riese meets again the woman who has stolen half his inheritance. Delanie knew who Mitchell was when she fell into conversation with the dark, handsome tycoon at a cocktail party celebrating the re-opening of his grandfather's historic resort. She has supervised the restoration of the massive turn-of-the-century hotel and, in the process, has earned the fond affection of the irascible, elderly Donovan Riese. Mischievously, Delanie parries Mitchell's attempts to learn her name. But somewhere between the casual conversation and the sparkling champagne, she falls instantaneously, head-over-heels in love with Donovan Riese's sexy grandson.
After a night of glorious passion, she wakes and slips away from his bed, still awash in the glow of finally having found her soul mate. At breakfast later that morning, Delanie waits with teasing expectancy when Donovan introduces her to his grandson, Mitchell. When the man she thought was her hero viciously attacks her for supposedly taking advantage of his grandfather, Delanie runs away, only to crash her car in her distress and wake up…having forgotten with whom she made a baby.